That's right, I ♥ Tulsa folks.
Though I was born in Cleveland, Ohio, which is also wicked cool, I was bread and buttered here in T-town. And I love it. I think it's a great "little-big" town as I refer to it, and a great place to raise a family. There's just enough to do that you don't get bored, but not so much going on that you feel overwhelmed or that you can't slow down.
We have amazing local businesses that I adore, like
dwelling spaces
, featured in my old blog
here
, and
here
. and
Boomtown Tees
, where I've bought some of my most favorite t-shirts.
My Dwelling Spaces Tee, and a matching onsie I gave as a gift!
And food, omg, let's talk about food. How about
Joe Momma's Pizza
(I have pics
here
) with their Golden Driller pie, named after THE Golden Driller?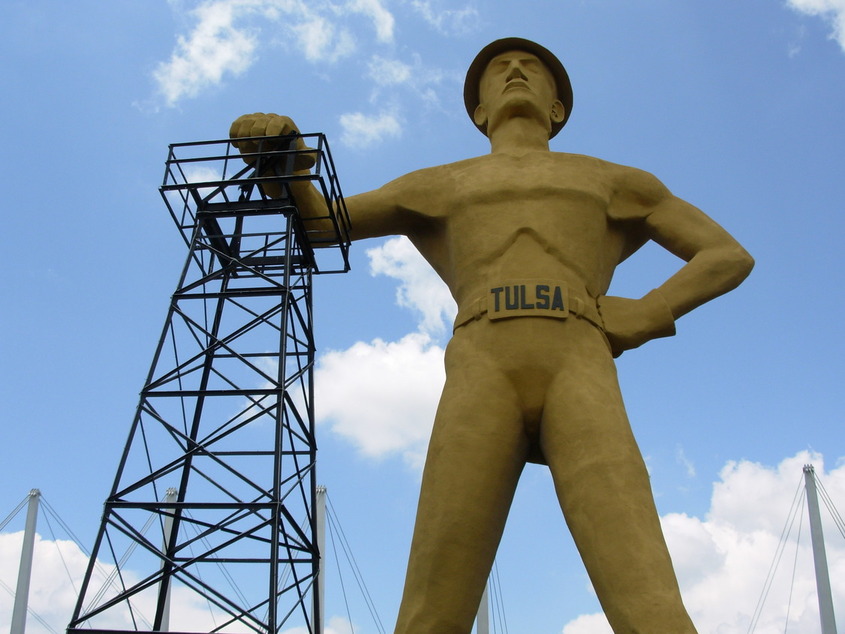 Then there is my love,
Elote
Café and Catering, with their outrageous puffy tacos and veggie burriots. Holla! And don't even get me started on the luchadors!!
Elote makes me happy.
Since I work downtown, the girls and I eat there for lunch often!
And do you even know about Mod's Coffee and Crepes? FIRST of all, crepes are not just for dessert. They have a spicy turkey and cranberry crepe that is out of this world, and other delicious lunch munchies. THEN their gelato is just...I'm speechless, really. It's delicious and I absolutely adore the fact that they have several vegan options. Not because I'm vegan, but with Aidan's allergy, he usually gets left out of trips to the ice cream parlour! Looking for my pics...

Have you ever had a bison burger? On delicious ciabatta bread? If haven't, you've never been to
Brewburger
! Locally owned, featuring local artists' work on the walls, and they welcome your children with piles of games, coloring books, and crayons. Family atmosphere and deliciously fresh food! Here are some pics from just one of our outings there.
Aidie the cowboy munchin' on some chips (we ate the queso since he can't have cow's milk).
Alec devouring his brewburger. Grrrrrr!
And...yours truly. O.M.G. There is nothing like it!
How about heading
Old School Bagels
on Brookside for a Wall Street sammie and oatmeal chocolate chip cookie that looks like a volcano on your way to
Philbrook
on the 2nd Saturday of the month for an artistic adventure with your family? We've been a few times:
Here's us
at the
Admiral Twin
drive-in just before it burned down. Thanks to Tulsans who care about preserving history, they've begun rebuilding the screen this summer!
One of the best dates EVER! Just before the original screen burned down.
Last year, I ran my second
Tulsa Run
, and plan to keep a tradition of it!
Those are just a few of my favorites, and I could go on and on, but I want to tell you about another reason why Tulsa is great. The people in Tulsa don't only care about rebuilding drive-in movie theatres; they care about preserving what's great in this city and doing positive things to make it even better. Take a look at
Tulsa+
and read the Tulsa World
Article
about how it got started.
Do you love Tulsa? Get involved. Be at the event July 28th, downtown at the TCC Center for Creativity for free food and a celebration of everything we love about our town.
Are you part of a non-profit organization that you're passionate about? Bring an "expression" for the event and sign up here or look them up on facebook. Wouldn't it be cool if Tulsa runners showed up in t-shirts from years past? What if Tulsa teachers showed up with their kids and showcased some of their favorite projects from the past year? Are there any librarians who would come and share a story time on stage? Are you an artist, or photographer? Bring your artwork to hang on the walls! What if we had local dancers perform, and musicians to entertain us? Moms: come and talk about your favorite places for playdates and how you stay sane in the midst of chaos! Are you a member of a book club? Bring your buddies and share about your favorite reads and the best coffee shops to share your discussions!
Like I say, life is what we make of it, and I plan to make honey.
This city is what WE make of it kids, what are you adding? Bring it!
love, honeybeemama